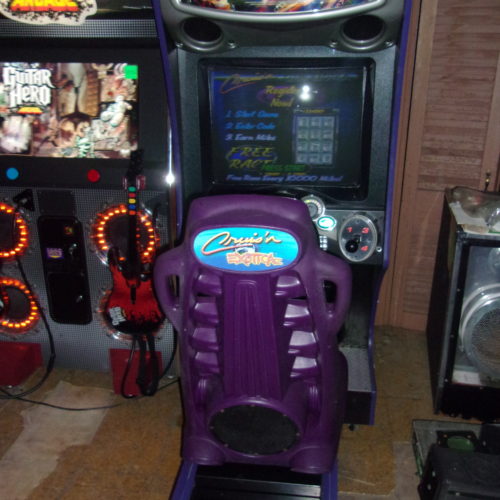 This game is similar to Cruisi'n USA and Cruis'n World except that you race in different locations throughout the universe. One such location is the Atlantis track which is probably the first underwater racecourse offered in a video game. The Mars track might also be another first with its interplanetary race track. The game is slightly easier than its predecessors and uses Midway's Zeus 2 hardware.
The object of the game is to race through twelve tracks spanning earth, underwater, and on Mars. There are newer cars and drivers including a clown and an alien (In Robotic Voice : "RIGHT ON DUDE!").
A cool driving game that features several tracks including one that has dinosaurs and several different cars including an old rusty chevrolet station wagon.
We accept PayPal, most major credit cards (3% charge) and cash on pick up.
We can ship, but please contact us for a shipping quote.
Great Game! Perfect for your location or man cave. Set for free play but can be set to take coin.  (keypad does not work).
Machine is in good condition, but please understand it has been used – we do not represent it to be like brand new in the factory box condition! It has been cleaned, tested and brought to 100% functionality. We encourage you to ask questions and request additional pictures prior to bidding or purchasing to ensure that you are satisfied with your purchase.