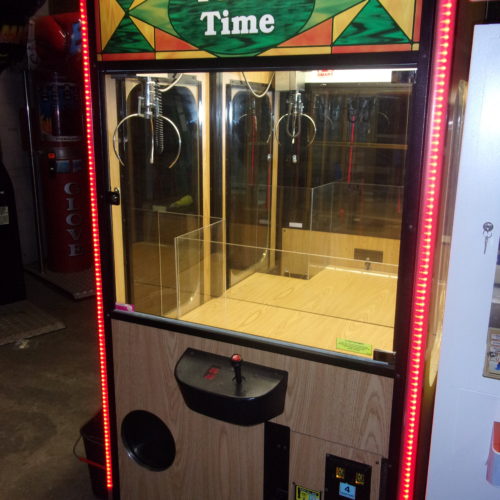 Prize Time Oak Wood  42″ Crane Machine – The Prize Time Oak Wood Cranes were designed with the operator in mind. These classic
crane claw game are true profit powerhouses !!!
The Prize Time Oak Crane is consistently one of the
best performing and best looking cranes on the market!

Prize Time Oak Wood Crane Machines Features:

▪ Interactive Sound System
▪ Rope Lights & Super Joystick
▪ Smart 7th Generation Microprocessor Game Board
▪ Double Coin Mechanisms  |  Tempered Safety Glass
▪ Triple Locking Secure Coin Box
▪ Tamper Resistant / Coat Hanger Proof Cabinet
▪ LED Credit Timer Readout  |  Self Diagnostic System
▪ Medium Claw Assembly  |  Prize Hole: 7.5″ x 7.5


WE CAN SHIP, BUT PLEASE CONTACT FOR A SHIPPING QUOTE.
Machine is in good condition, but please understand it has been used – we do not represent it to be like brand new in the factory box condition! It has been tested and brought to 100% functionality. We encourage you to ask questions and request additional pictures prior  purchasing to ensure that you are satisfied with your purchase.
Thomas Music & Games
The Source for All Your Amusement Needs, For More Than 37 Years!
We have been servicing the Central Ohio area for more than thirty seven years, providing the highest quality video games, pinball machines, and jukeboxes to bars, lounges and private residences.